You don't have to be a comic book expert to know that Superman, Wolverine and Iron Man are some of the greatest and most important superheroes of all time. Why we love them? Because they rock a trillion! They are the ultimate warriors who are making the world a better place.
However, not all superheroes are equally good. There is a whole different world of superheroes that are – how should I put it – they are bad. No, they are not bad guys, they just don't make sense. They have questionably useful powers, they get killed way to easy, and their background story is just plain stupid. That is being sad, how about we have a look at some of the lamest superheroes of all time?
Maggott
Maggott is without a doubt the strangest X-Men. This bunch has seen a lot of weird-looking mutants with questionable abilities but Maggott tops them all. Why? His digestive system is literally two giant slugs that can eat through any substance. They can be extracted from his abdomen so he can use them as weapons. Yikes!
Frog-Man
The Frog-Man doesn't have any superpowers. He's basically a regular kid who just wanted to become a superhero and help out his father, an ex-supervillain Leapfrog, to redeem his name. I must say, his intentions are always good, even though they don't always work out.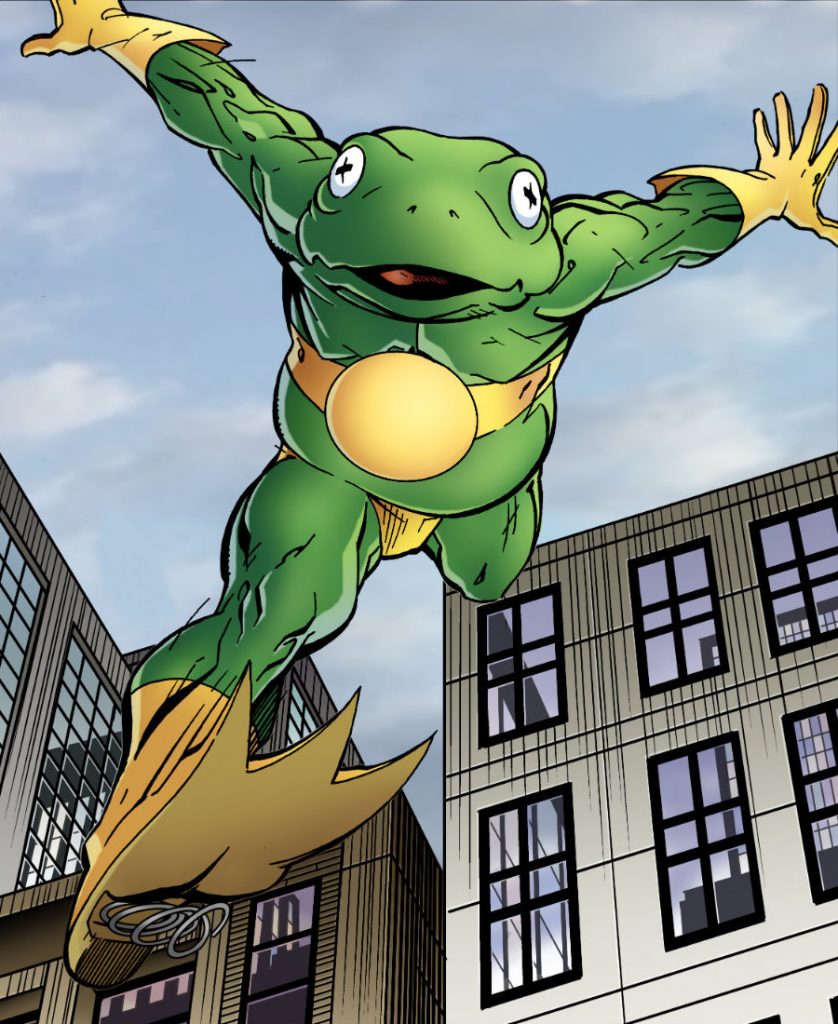 Bird-Brain
Bird-Brain's story reminds me of one about Doctor Moreau's creatures. Bird-Boy is a bird/human hybrid created by a mad scientist Anti-Mator. After years of torture, Bird-Boy manages to escape Anti-Mator's laboratory but gets captured to be displayed for a freak show in New York. Eventually, he gets freed by Cannonball and joins the team of New Mutants.
Ambush Bug
Ambush Bug, real name is supposedly Irwin Schwab, is an adventurer who suffers from mental illness and barely fights crime. His only ability is teleportation, and the awareness of the fourth wall. Before joining the Doom Patrol team, he was a temporary member Justice League.
Leech
Leech's early history or what caused the mutation is unknown. We only know the mutation became visible before hitting puberty. We also know he is with the New Mutants, and his power includes an ability to project a dampening field that blocks any paranormal abilities in other mutants.
Dazzler
Dazzler is usually associated with the X-Men. She's a mutant with an ability to convert sound into light. Dazzler is also a disco singer who managed to land some really good shows at several clubs in New York.
Gorgilla
This guy doesn't not have any particular superpowers, except for agility, durability and superhuman strength.
Razorback
I have no idea why a truck driver named Buford Hollis decided it would be a great idea to go fight crime dressed like a pig. This guy has no superpowers or abilities whatsoever, but he did help some greater superheroes, like Spider-Man, fight villains.
Dolphin
Dolphin is a superheroine, an Atlantean and a close ally of Aquaman. Her abilities include everything superhuman – superhuman strength, speed, durability, enhanced vision and hearing. Her only weakness would be mutism which makes it hard for her to communicate her thoughts and feelings.