For the vast majority of us, the expression "There are plenty of fish in the sea" is meant to provide encouragement and proper perspective when our relationships don't work out. Don't give up; there are lots of guys, girls and mermaids who are just dying to date you. You just need to purchase yourself a high-quality fishing net or something. But when you're a regular swell like Leonardo DiCaprio, this expression takes on an entirely new meaning. You see, we struggled mightily while researching this article and were only able to find 24 girls that have dated Leo, but all we can do is accept this and move on.
1. Bridget Hall
A model and actress, Hall was DiCaprio's first legitimate girlfriend after having achieved a certain amount of fame. They dated in 1994, and it was rumored that Leo dumped her because she wasn't impressed with his performance in the sack. Of course, she denies anything took place at all. But one thing is certain: after their breakup, he never dated a supermodel ever again. Except that I'm completely lying.
2. Brittany Daniel
These lovebirds met on the set of The Basketball Diaries, but when it became abundantly clear that Leo wasn't the basketball hotshot that he pretended to be in the movie, the relationship was doomed. Or more likely they just realized they weren't made for each other.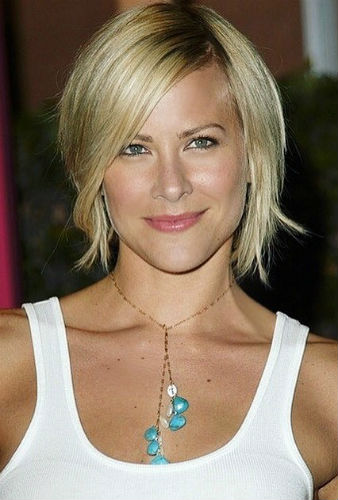 3. Naomi Campbell
In 1995, when DiCaprio dated one of the world's most famous supermodels of that time, it marked the last time he would be with somebody who was arguably more famous than he was. It was, of course, the huge billion-dollar blockbuster The Beach that would turn Leo into the A-list actor we are all jealous of today.
4. Kristen Zang
If you care to know, Kristen Zang is a leggy supermodel. But, really, couldn't that be said of literally every supermodel except for those who happened to have been born a mermaid? It's been said that Leo was completely head-over-heels for Zang — the fact that they dated for nearly two years would seem to support this — but ultimately she found that he lacked maturity. And he seemed to enjoy the company of other young supermodels. She wasn't too interested in playing the 12th fiddle.
5. Helena Christensen
There isn't a whole lot to say about Miss Christensen — who was (surprise!) yet another model — other than the fact that she realized Leo was nothing like the Jack Dawson whom she had watched dying of hyperthermia over and over again during repeated viewings of Titanic.
6. Natasha Henstridge
Henstridge might not be a household name, but there was a time when you might have been able to recognize her as the chick who was secretly a repulsive insect-looking alien in Species. Their relationship didn't last long. Perhaps she really was from another planet, and Leo couldn't come to terms with this? Who knows.
7. Amber Valletta
Amber's "Dating DiCaprio Origin Story" is a bit bonkers. Reportedly, he saw a photo of her in a magazine and flat out decided he wanted her. No — he needed her. When you're Leo, you can do things like that.
8. Bijou Phillips
Phillips was the daughter of John Phillips, the singer from The Mamas & the Papas and…you can totally look up on Wikipedia if you care to know their story. Interestingly enough, she dumped DiCaprio for Elijah Wood, who possesses the largest eyes of any non-owl on the planet. She ended up marrying Danny Masterson, who you might know as the guy who's in a heap load of trouble at the moment.
9. Eva Herzigova
Leo's relationship with Herzigova wasn't ever completely confirmed, perhaps because during the period of time in which they supposedly had a fling, she was married to a member of rock band Bon Jovi. Not Jon Bon Jovi himself. And not Richie Sambora. So it would have had to have been one of the other dudes.
10. Gisele Bündchen
DiCaprio and Bündchen were together for a whopping 5 years, which is the equivalent to eternity when measured in Leonardo DiCaprio Years.
11. Bar Refaeli
This Israeli-born Victoria's Secret Angel had everything Leo could possibly need: she was a Victoria's Secret runway model. They started dating in 2005 and after four years they took a break. More on that in a moment.
12. Anne Vyalitsyna
After DiCaprio and Refaeli decided to temporarily part ways, he took comfort in the bosoms of Russia's very own Anne Vyalitsyna, who was…a Victoria's Secret runway model. You don't say?! He took her on a luxury vacation in Spain. Their relationship lasted around 6 months, and then Bar made her grand return.
13. Bar Refaeli (again)
Subsequently, the pair would date for another 2 years before throwing in the towel for good. That when things really took a turn for the best for the fashion model. Just kidding. In 2019, Refaeli pleaded guilty to tax evasion and be sentenced to 6 months probation. But at least she avoided jail time, unlike her mother.
14. Blake Lively
Leo and Blake were only an item for 5 months, but what a lovely 5 months it must have been! Lots of yacht sailing in the South of France. You know, like the way you spend your summer vacation. Lively ended up marrying Ryan Reynolds in 2012. Meanwhile, DiCaprio decided he was done dating for good, but I'm completely making that up. Bet you were fooled though!
15. Madalina Ghenea
After breaking up with Lively, Leo expanded his horizons by dating a Romanian! They met while he was in Australia filming The Great Gatsby. In the end, it didn't go anywhere.
16. Erin Heatherton
If you strongly suspected that Heatherton was a Victoria's Secret model, you know DiCaprio far too well! Or you've been paying attention to this article. They were an item for 10 months in 2012. But in the end, they were just too busy with their careers to commit to each other.
17. Toni Garrn
True or True: Garrn was a Victoria's Secret Angel. No matter how you guessed, you are correct! They stayed together for about a year, but as was the case with a lot of Leo's exes, Toni got tired of all the other supermodel ladies chasing him around.
18. Kelly Rohrbach
Incredibly, Rohrbach was not a Victoria's Secret model. But before you hyperventilate from the shock of learning this, assure you that she was a Sports Illustrated swimsuit model. She is also a graduate of Georgetown University, so she has brains. She even played on their golf team, so she has a certain amount of coordination. There was talk of the engagement, but after a year of dating they called it quits.
19. Rihanna
Admittedly, things were never that serious with the superstar singer. But Rihanna was looking for somebody who wasn't intimidated by her insanely busy schedule, and Leo clearly fit the bill.
20. Laura Whitmore
DiCaprio met this Irish TV presenter at an after party following the British Academy Film Awards show. There is talk that he took her back to his hotel room. Think they binge-watched Netflix while in there? Me neither!
21. Victoria Lee Robinson
Leo and this 23-year old Ford model were seen together during a Justin Bieber concert after party. Beyond that, there isn't much known about the nature of their relationship or how long they were together.
22. Georgia Fowler
Another 23-year-old model, DiCaprio was introduced to her at a Cannes Film Festival party. It didn't last very long though.
23. Nina Agdal
Agdal had previously dated the lead singer from Maroon 5, Adam Levine, before hooking up with Leo. They went on a few vacations together during the summer of 2016, and that was that.
24. Lorena Rae
In 2017, the couple was spotted all over the place, from Monaco to St. Tropez to New York City. But Leo's rep denied that they were in fact lovers. Rumors of a relationship pretty much died down after that.
25. Camila Morrone
We've now reached the bottom of the list! DiCaprio is currently dating Morrone, an actress/model 23 years his junior. To put things in perspective, she was born in June 1997, six months before Titanic was released! But they insist that age ain't nothing but a number.