It's honestly a bit ridiculous that there are still rules when it comes to fashion and it's kind of strange to think that it's 2020 and we still think of fashion is divided by gender. The world is changing, becoming more open and accepting and fashion should reflect that. Little by little, we see more and more unisex clothes, we see gender-neutral outfits that look equally good no matter what gender you identify with. But what we love most is seeing both male and female celebs wearing the same outfit. So here are a few examples of how some famous men and women rocked the same style and you can be the judge of who wore it better. We, on the other hand, are hoping to see more stuff like this in 2020.
1. Zendaya and Timothée Chalamet in Christian Siriano
We love how Zendaya and Chalamet wore the same magenta Christian Siriano suit and both of them looked absolutely stunning in it. It's also interesting that Zendaya chose to wear it with the shirt buttoned fully and the trousers being flook length and Timothee Chalamet went for a more relaxed look with a few top buttons undone and cropped pants paired with boots.
2. Zendaya and Michael B. Jordan in Berluti
You've got to admit this girl looks awesome in suits. While this Berluti grey suit looked great on Michael B. Jordan, it looked even more chic on Zendaya. How does she pull it off and make it look so freaking cool?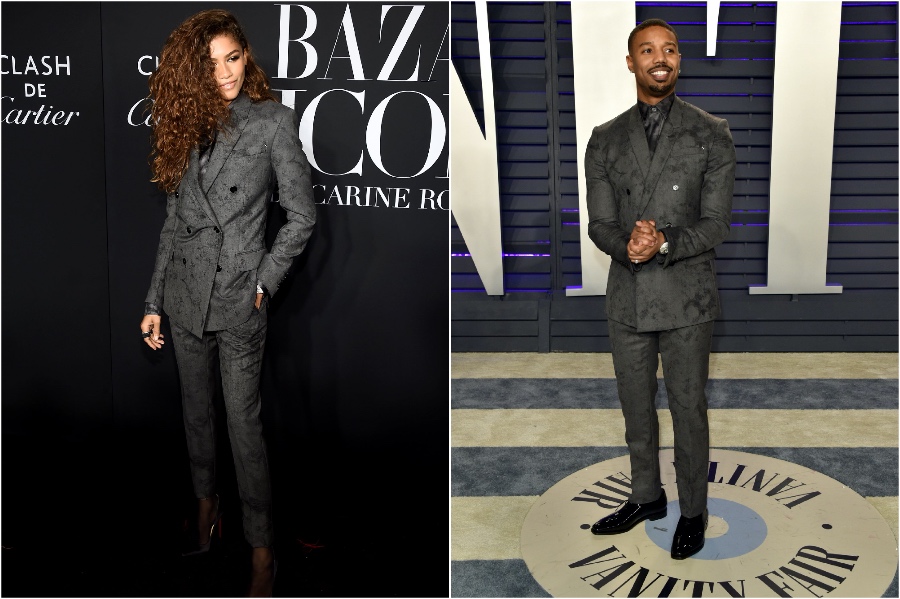 3. Naomi Campbell and Antoni Porowski in Dior
Here's a suit of a very unique shape by Dior worn equally well by model Naomi Campbell and Antoni Porowski from Queen Eye. Naomi went for a chic look with a statement handbag and some sleek heels, while Antoni went for a more casual vibe with what looks like converse.
4. Amber Valletta and Ezra Miller in Saint Laurent
Can we talk about Ezra Miller for a minute and how he's been challenging and pushing the limits of fashion lately specifically by going for gender-neutral or more feminine looks. We love that he chose not only to wear this outfit but also to complement it with a red lip. Amber looked equally stunning in this Saint Laurent jacket with her natural makeup look.
5. Miley Cyrus and Harry Styles in Saint Laurent
This was the last Vanity Fair Oscars party Miley attended with Liam Hemsworth and she was positively glowing in that Saint Laurent low-cut sequin dress. We can't be sure if that jacket Harry Styles wore for SNL is also Saint Laurant or some other designer but you see the similarity, right? Harry's been wonderfully experimental with his style recently and we love it. Both of them pulled off that low cut sequin look with such ease.
6. Jonathan Van Ness and Jameela Jamil in Rochas Dress
Now, this would've been embarrassing if they both wore the same look for the same event, or would it? Both Jonathan Van Ness and Jameela Jamil are such wonderful and kind people that we're pretty sure they'd just end up taking selfies together and complimenting each other for the choice of dress. However, they didn't actually run into each other wearing the same dress.
7. Shailene Woodley and Ezra Miller in Moncler
We all remember that iconic moment in fashion when Izra Miller showed up to the red carpet in this all-black everything puffer dress by Moncler. What few of you probably know is that Shailene Woodley wore a very similar dress by Moncler, but it blue with a lovely print. Gotta say, while the drama levels differ, it's not exactly an easy look to pull off and they both wore it well.