People's ability to paint always baffled me. I can't wrap my head around how painters can just use a few simple tools to recreate something in front of them. What I find even more mind-blowing is the ability to draw the human form and portraits in particular. But there are portraits and then there are hyperrealistic portraits which are just in a category of their own.
Alena, also known as @litvinalena on Instagram, is a Russian artist who does hyperrealistic portraits using just pencils. It seems like she really doesn't have a preference in terms of who to draw. Kids, adults, older people, tall, short, etc – she can do a portrait of anyone and make it look like a perfect photograph. Her portraits are incredibly detailed and it usually takes her about 10 days to finish one, but with that level of precision and realism, we're honestly surprised it can be done that quickly. I'd expect at least a month.
It's also not necessary for her to draw from real life, because not only does she do portraits of people she knows or has met, but she's also incredible and doing hyperrealistic portraits of celebrities. Alena's already done portraits of many of our favourite stars including Scarlett Johansson, Will Smith, Keira Knightly, James McAvoy, Matt Damon and more. Take a look at some of her works below.
1. James McAvoy
"It's always interesting to watch an actor change from role to role to capture the character. I think the most important thing in a male portrait is energy and power.
From a technical point of view, this portrait was interesting for the actor's expressive look. I think I managed to capture it, what do you think?"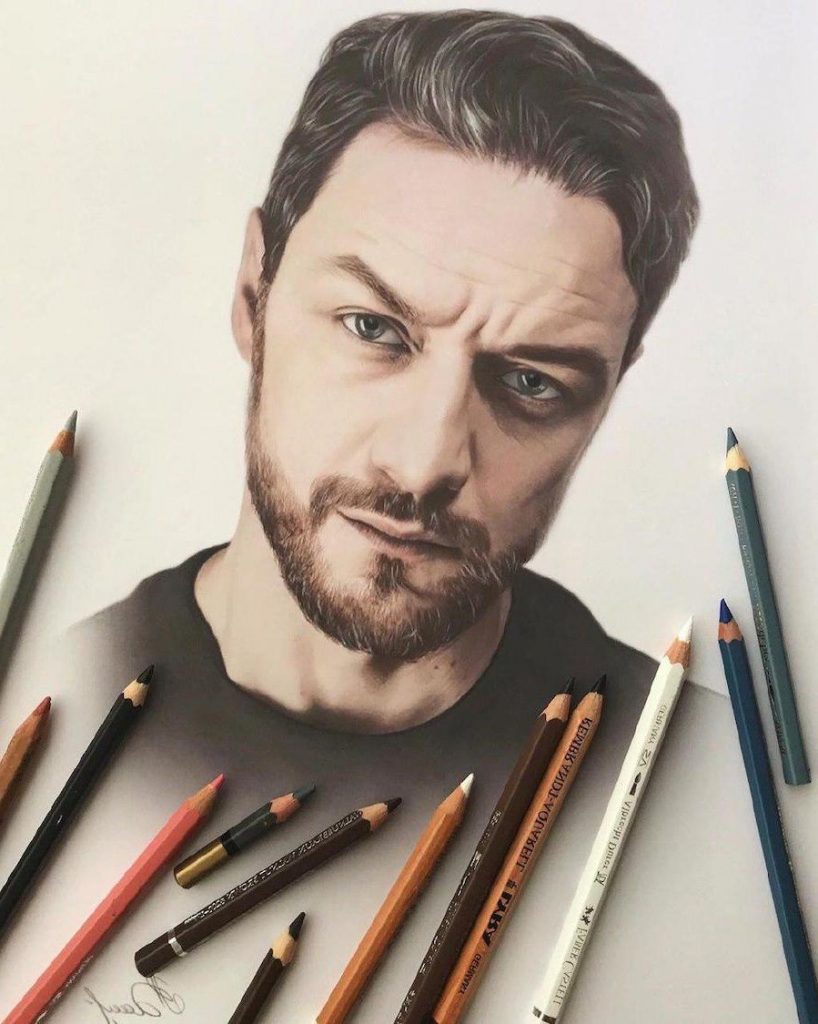 2. Dwayne The Rock Johnson
"You all requested it and here's the result. I've complicated the process for myself trying to capture each wrinkle, each little hair or drop of sweat. A lot of time and effort went into this but I think it's worth it. Let's hope The Rock notices this"
3. Marilyn Manson
"They say there are 450 scars on Marilyn Manson's body and while they're not visible on this drawing, it doesn't make it any less expressive. After all, beauty isn't just about perfect looks, it's about being unlike others too."
4. Cara Delevingne
"After numerous requests I did it. Here's Cara in all her glory. I tried to include every single detail of her appearance, as per usual"
5. David Beckham
"Can you believe that this heartthrob, the dream of millions of women all over the world is 44? He ages like expensive wine, just getting better with every day."
6. Gerard Butler
"Gerard's portrait is ready, I'm just gonna leave him to keep smiling over here"
7. J Lo
"Here's a work from the archive, @jlo's portrait definitely deserves more attention, and of course, I will be grateful to you for mentioning @jlo in your comments, friends"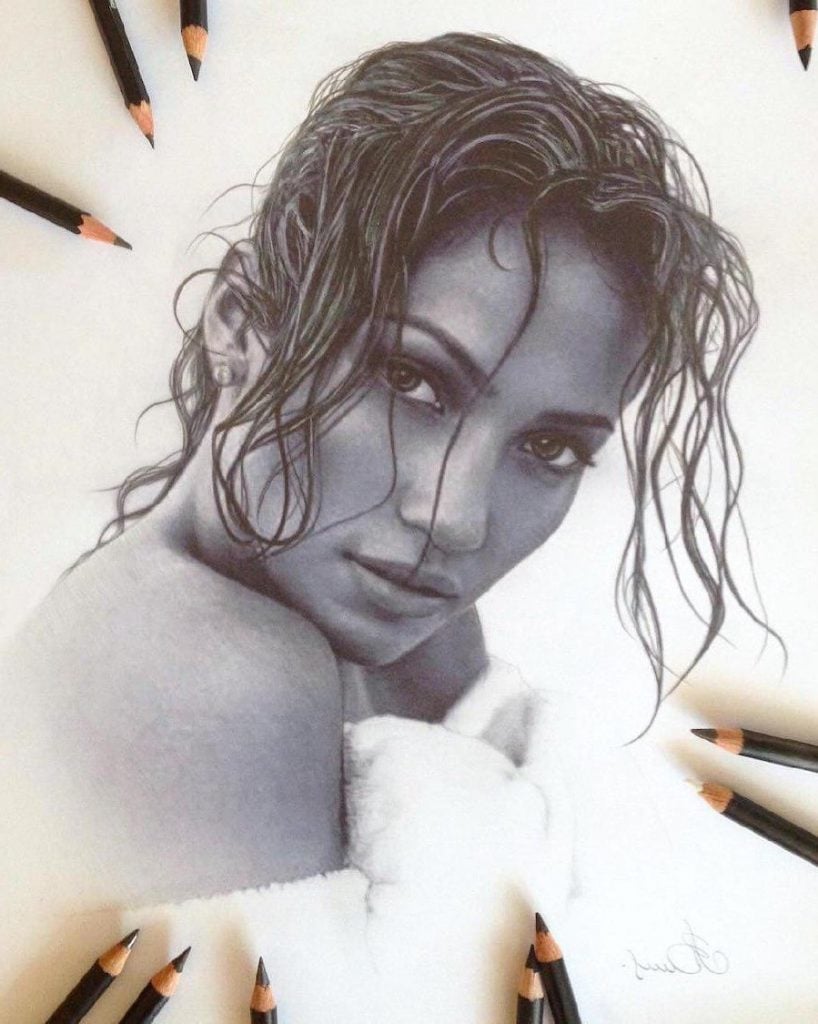 8. Scarlett Johansson
"What is sexuality for you?
Big lips and tempting body shape? Seductive outfit or long legs? Sexuality is in everything: in the look in your eyes, the smile, the dimples of the cheeks, the turning of the head and the movement of the hands…
The artist feels it in every movement of the model. And conveying this energy is a special kind of feat. To not break the natural charm, to not turn it into something vulgar, but to hint at it so that the viewer understands everything himself, figures it out, and feels it.
Scarlett for me is the embodiment of sophisticated sexiness. I couldn't resist drawing her. Do you like it?"
9. Matt Damon
"The Christmas holidays are coming to an end. I hope you managed to relax, gather the strength and are ready to break into the workdays of the New Year"
10. Will Smith
"Hurray! I did it, the portrait of Will Smith is finished and I think he looks very lifelike here. What do you think?"