What's going on with the guy whose net worth is $98.5 million US dollars? His head coach – John Kavanagh reveals shocking details of McGregor's life. The fighter started his path to success from the bottom. He knows what it feels like being poor and unable to buy at least food. But together with his wife they managed to preserve their existence. Now Conor is a super star and every his match is a huge event.
He makes six figures every time he shows up on the ring, but Kavanagh assures, McGregor lives quite a 'frugal' life. And there are several reasons for it: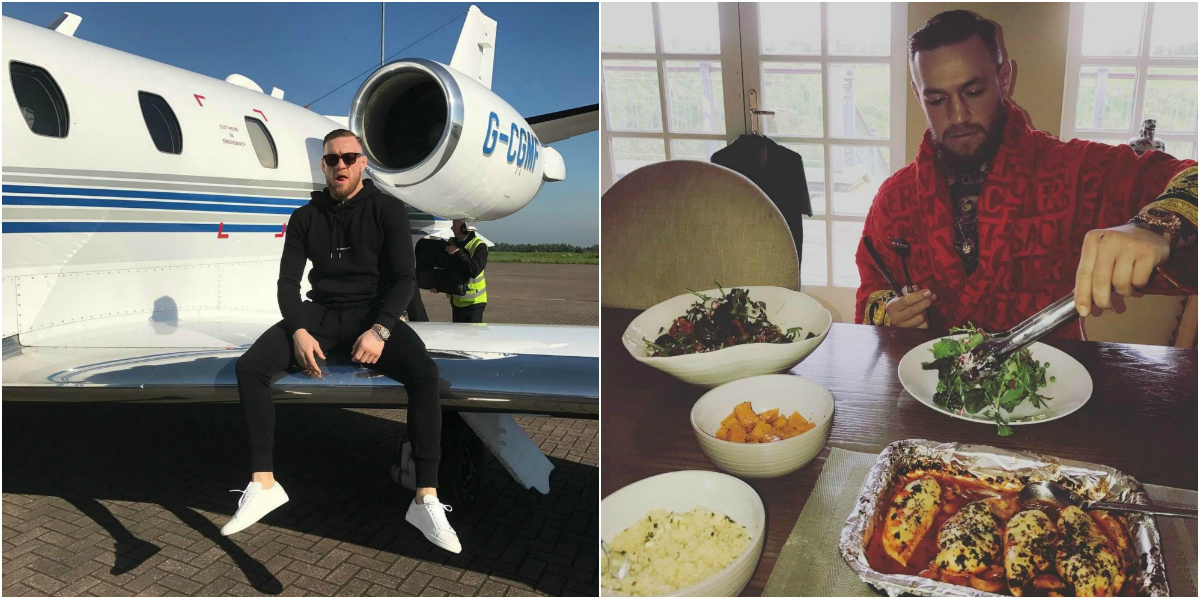 1. He hates eating out. His wife has been cooking for him since the first day of their relationship and there is nothing better for him than her home-made food. They can afford hiring a chief from any restaurant on the globe, but for Conor it is meaningless. He loves what his wife does for him and his son, together with it, she definitely knows his tastes better than anyone else. By the way, Dee (his spouse) adores cooking.
2. Conor loves suits. He has a bunch of them in the closet, all stylish and super expensive. McGregor looks classy wearing those outfits. But he doesn't buy them himself. Companies are ready to pay him cash for wearing their clothe or accessories. As an icon of style and success, Conor inspires millions of young boys to go in for sports. And, calling him their idol, these guys want to look just like McGregor. If they can buy a suit just like his – they just go and get it.



3. McGregor has an incredible array of high-performance cars: ivory Lamborghini Aventador Roadster, forest green Lamborghini Huracan Avio, electric plug-in BMW i8 and a bunch of shiny Rolls-Royce monsters that warm up his Irish heart. Conor dreamed of one since being a silly teen fan of mixed martial arts. So, now he has all he needs to make his dreams come true. Now try to guess how many of those cars he bought himself? None. Seems like this guy gets all he wants for free.


4. Conor knows how to make a lot off fuss around his matches. He starts the campaign way much in advance before every fight. McGregor has super skill to make people deeply interested in what he does and somehow the wave he raises brings him new benefits and riches. Even if he loses – he still gets certain profits and new contracts.
5. The fighter doesn't suffer from star sickness. Time and money don't influence him at all. Despite all the titles and millions in his bank account, he is still the Conor his friends and family knew 10 years ago. But for one little thing – McGregor loves party lifestyle. They say he once ordered $100,000 booze for after party drinks. But we believe that his friend's wedding was quite a reason for huge expenses. Although, his coach assures, McGregor hasn't spent a cent there and all drinks were presented by third party.