Now that half of the world has seen Game of Thrones, everyone knows about Jason Momoa, who played Khal Drogo, the mighty Dothraki chief and husband to Daenerys Targaryen. The other half of the world that loves comics and good action movies got to know him through his amazing performance as Aquaman. Whether you are a die-hard fan of this handsome actor or simply want to know him better, this list of facts is right up your alley. Here are 8 things everyone should know about Jason Momoa.
He's crazy about his wife
I mean, it's natural to be totally smitten with the woman you are married to, but Jason Momoa's affection doesn't seem to get any less as time goes by. It turns out he first saw Lisa Bonet performing on The Cosby Show when he was a kid. She was his first celebrity crush! That's when he realised she was the love of her life and decided to find her someday. Well, he actually did! The couple married in 2005 and have been happy together ever since.
He was on Baywatch: Hawaii
Long before he got super bulky and grew a long beard, Jason Momoa was 19 years old and worked in a surf club. That's when he was spotted by Takeo Kobayashi and Eric Chandler. That was the breaking point in his life because he landed a role in Baywatch: Hawaii and realized he wanted to make a career out of acting. He fell in love with the whole feel of it and decided to become a professional actor. Later Jason Momoa confessed that it was hard to get out of the show's grip and move forward with acting.
He stunned his wife with a breathtaking present
Jason Momoa caught everyone's breath away when he posted a video on YouTube revealing the present he prepared for his beloved wife. Lisa Bonet bought this 1965 Mustang when she was just 17 years old and created lots of happy memories with this car. It has been rusting away ever since, until Jason Momoa decided to rejuvenate it and present it to his wife. "I know we can't relive a memory, but maybe we can rebuild one", – said Jason Momoa and took it to the auto builders to perform some magic on the rusty old car. It turned out brilliant and Lisa Bonet was happy beyond words!
He's a passionate rock climber
On Jimmy Fallon's Show, Jason Momoa confessed he's afraid of heights, but he loves rock climbing very much and does it despite the fear. The producers even incorporated climbing into the Aquaman movie because Momoa loves it so much! They built a special climbing gym on the set of the movie so he could get into perfect shape and perform well. The actor admitted it was a great experience and he liked to have a goal like that. Not simply get ripped for the movie, but become a better climber. That requires passion, lots of hard work, and a special diet.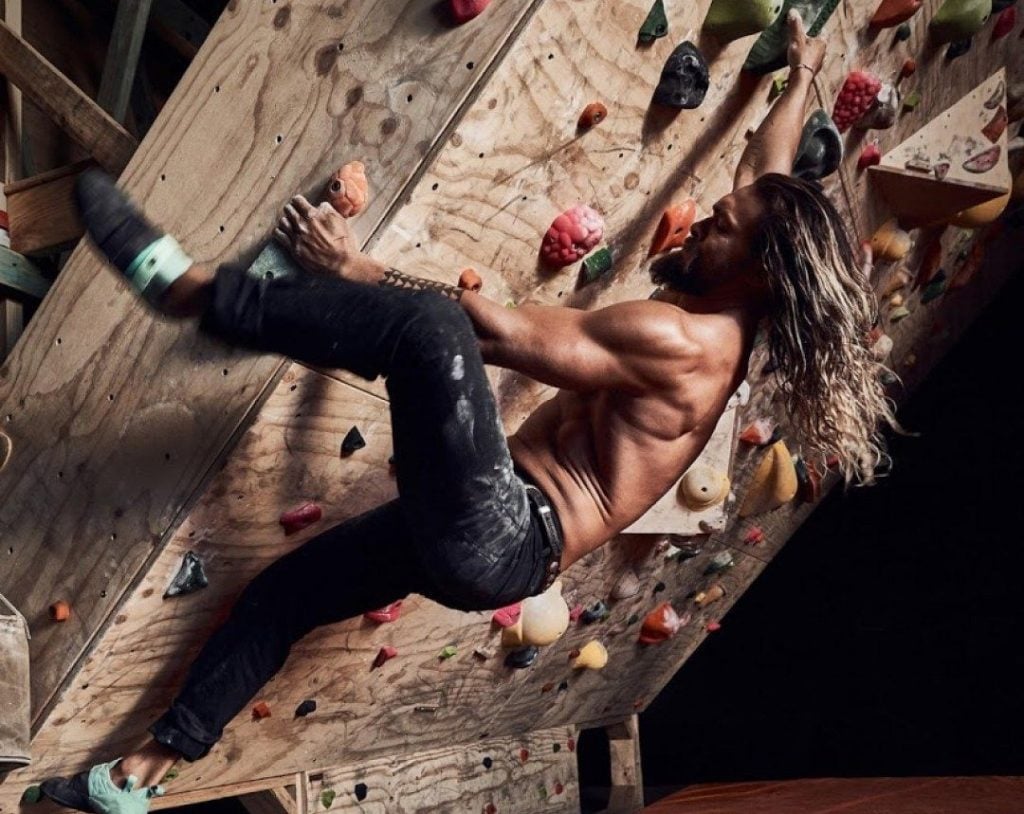 He always visits Emilia Clarke and other GoT co-stars
Jason Momoa has a big heart and even though he didn't stay in Game of Thrones for the whole show, it was long enough for the cast to become one happy family. He often came to visit his former co-stars during the filming of the show, cheering up his friends and making a fun surprise out of it. On The Graham Norton Show, he admitted that he visits Emilia Clarke every time he happens to be in London and they hang out like true buddies they are. Emilia Clarke once told that when she met Jason Momoa for the first time and even before they got introduced to each other – he shouted 'Wifey!' from the other side of the corridor and ran to grab her for a hug. He's such a wonderful guy!
He doesn't like gyms
For an actor with such a spectacular physique, it's surprising to find out that Jason Momoa actually hates gyms. In an interview for Men's Health, he admitted that working out in a gym is a bit boring and he doesn't like the monotonous movements. Before 2010, he didn't even lift weights! Instead of gym training he prefers surfing, running, climbing, and boxing. That's what he usually does just for the fun of it. When he needs to train for a movie – he lifts weights and makes it more fun with other activities and sports he loves.
He adores his kids
Jason Momoa looks like the happiest dad on Earth when he's with his family. He mentioned it more than once that family is what keeps him grounded in the hardest of times and what makes him even happier when things are going good. He and Lisa Bonet have two kids – son Nakao-Wolf and daughter Lola. Jason Momoa believes it's the best thing that has ever happened to him and wants to surround them with love, care, affection, and all kinds of beautiful things. He is also cool with his step-daughter, Zoe Kravitz, the two call each other 'Zozobear' and 'Papabear'.
He knows the Haka dance
Jason Momoa is not only a great actor, but he also knows how to dance! He's showed the special ceremonial Maori dance called Haka on more than one occasion and it does look a little bit intimidating. This traditional dance was often used during wartime to intimidate the opponent or send a message, but now it's more peaceful and can even be used to greet guests. Jason Momoa and the cast of Aquaman performed the dance at the premiere of the movie to the delight of the crowd.