A few decades have passed since Friends first aired on TV, but Jennifer Aniston is still as popular as ever. She's a great individual with a fun personality people are drawn to. She's never stopped acting, either, gaining more celebrity friends than any other actress over the years. Jennifer Aniston is quite sociable, so it doesn't really come as a surprise that she made friends with a whole bunch of celebs all over the world. Here are 8 of Jennifer Aniston's most amazing celebrity friends.
Brad Pitt
Brad Pitt and Jennifer Aniston tied the knot back in 2000 on the rise of their careers. We don't really know the details, but the couple split 5 years later and Brad Pitt started dating Angelina Jolie soon after that. The two met each other on the set of Mr. and Mrs. Smith and that's probably where the magic happened. 20 years later Jennifer Aniston and Brad Pitt are seen together again, acting all friendly and happy. They seem to have maintained a good relationship with each other!
Courteney Cox
Monica and Rachel have become one of the most famous TV friendships ever, so it didn't come as a surprise that Courteney Cox and Jennifer Aniston became close in real life, too. The got so friendly on screen while the show was running, that they genuinely started liking each other behind the scenes as well! Naturally, their friendship continued even after the show was over. We love seeing them together attending red carpets and various public events.
Adam Sandler
Jennifer Aniston and Adam Sandler have known each other for years. In fact, their friendship is so strong that they sometimes choose the same movies so they could act together! Their on-screen chemistry is amazing and you can get that only with someone you have a strong connection with. You might remember seeing them in the movie Just Go with It, and you can also enjoy their cool vibes in the latest Netflix original movie Murder Mystery.
Alicia Keys
Alicia Keys and Jennifer Aniston got famous doing different things, but that doesn't mean they can't have common interests. The two befriended each other while doing a film series named Five that touches upon the topic of women's health issues and breast cancer. Both celebrities are very passionate about the subject that's why their professional partnership turned into real friendship over time.
Ben Stiller
It's really not that surprising that two funny, cheerful people would find common interests and become friends for life. That's exactly what happened with Jennifer Aniston and Ben Stiller! The two met on the set of Friends back in the 90s, when Ben Stiller dropped in to play in the episode named "The One with the Screamer". They also starred together in a romcom Along Came Polly, which made their friendship even stronger. They have remained friends ever since!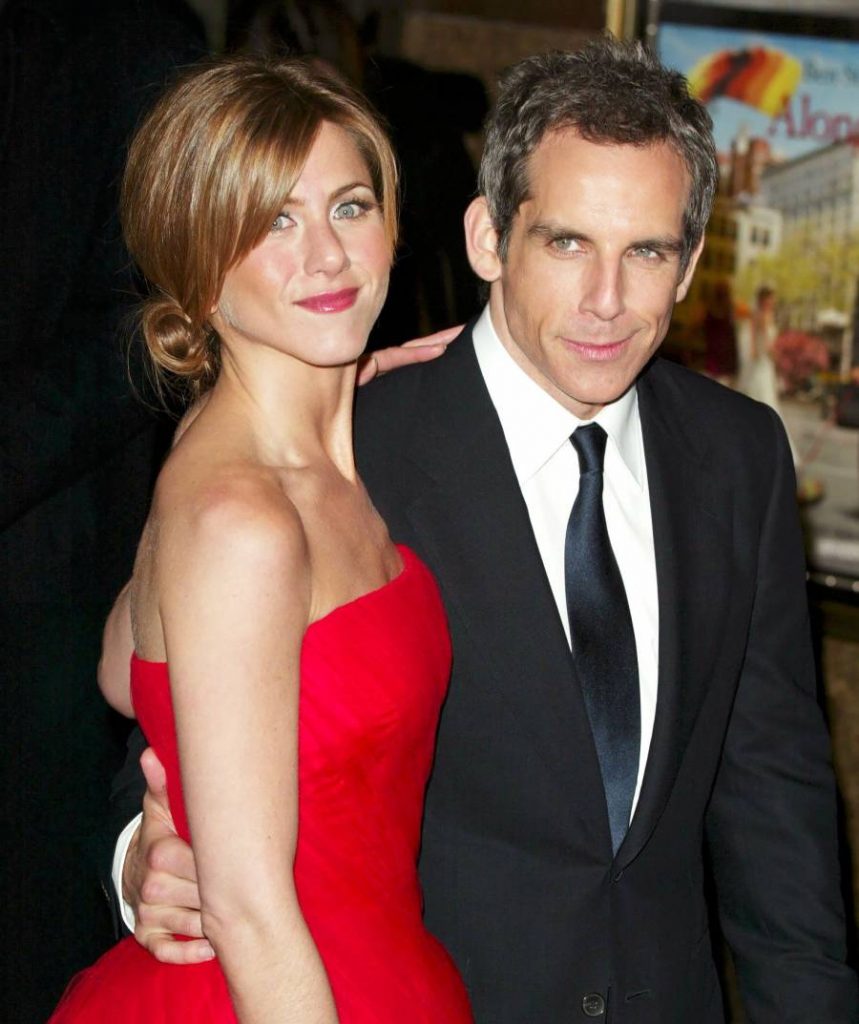 Ellen DeGeneres
Ellen DeGeneres and Jennifer Aniston are one of the best celeb friends you'll ever see. They have so much fun with each other! Whenever Jennifer Aniston visits The Ellen DeGeneres Show it's a sight like no other and there are more laughs than with any other celebrity visitor. They have known each other since late 90s. One of the first photos proving their friendship is Ellen visiting Jennifer Aniston's premiere of the movie The Object of My Affection in 1998. Jennifer Anniston was also the first celebrity guest that appeared on Ellen's talk show!
Reese Witherspoon
It seems that the cast of Friends was so solid that it was impossible not to befriend whoever walked into the show. The same thing happened with Jennifer Aniston and Reese Witherspoon, who played Rachel's younger sister Jill at one point in the show. Their chemistry on set was perfect and real life friendship blossomed soon after that. You can still see them hanging out together and even acting side by side. You can now watch them in The Morning Show.
David Schwimmer
Ross Geller and Rachel Green were one of our most favourite TV couples in the 90s. Their journey from being friends to passionate lovers was truly amazing and we enjoyed watching every second of it. Naturally, everyone speculated that Jennifer Aniston and David Schwimmer were also together in real life, but that was just wishful thinking. The two appeared together visiting various events and had fun with each other, but they have always been just friends.