You would think that with the amount of sex scenes in a movie most actors and actresses wouldn't mind a little kiss during a movie? Right? Well, you'd be wrong! The list of stars who have refused to kiss on camera (for one reason or another) is absolutely huge.
However, here are 7 actors who refused to kiss on camera!
Eric Stonestreet and Jesse Tyler Ferguson (Modern Family)
You would think one of the most popular gay couples on TV in America had no problems kissing. However, during the entire first season the couple did not kiss. Eric Stonestreet (Cameron), who is straight, felt uncomfortable kissing a man. At first. However, eventually we did see them kiss.
Lindsay Lohan and Charlie Sheen (Scary Movie 5)
I mean, would you want to kiss Charlie Sheen? I know I wouldn't. And Lindsay Lohan also didn't want to. Turns out that the kissing scene you see in the movie wasn't between the two actors, it was between Sheen and Lohan's body-double. But Charlie Sheen took it in stride and did not take the actress's wishes personally.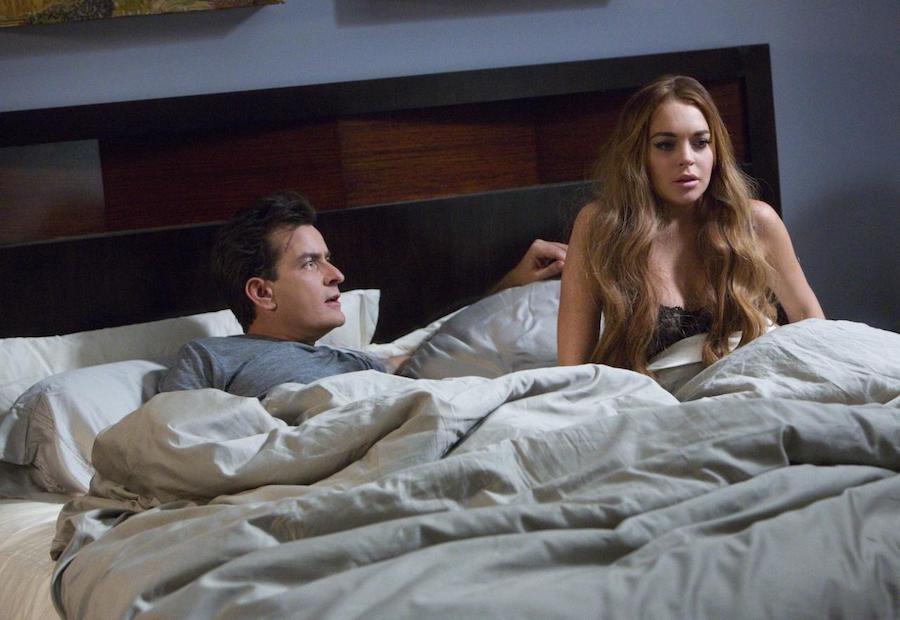 Brad Pitt and Cate Blanchett (Benjamin Button)
With the amount of love scenes that Brad Pitt has done throughout his career, it's hard to imagine that at any point in the past he could have not wanted to be part of one. However, turns out that he refused to kiss Cate Blanchett on the set of Benjamin Button. Most people assumed it was because of his relationship with Angelina Jolie, but eventually Brad Pitt did agree to do the scene.
Jennifer Lawrence and Chris Pratt (Passengers)
The story here is kinda simple, but also very funny. Jennifer Lawrence felt extremely uncomfortable kissing Chris Pratt because he was married. According to some later interviews, Jennifer Lawrence had to get incredibly drunk to "gather" the confidence and bravery for the scene in which she had to kiss her married co-star. In a later interview she even told the press that she had to consult with her mother to get an outside opinion on whether it was okay to kiss a married man if it was for work.
Alyson Hannigan and Jason Segel (How I Met Your Mother)
Can you imagine the power couple of Lily and Marshall not kissing in How I Met Your Mother? Well, that was almost the case! Jason Segel was a smoker, but Alyson Hannagan wouldn't have that. She didn't want to kiss someone who smelled like an ash-tray! They agreed that for any cigarette that Jason smoked, he would have to pay Alyson $10. Eventually the cost of smoking became too much even for an actor like him, and he had to drop the rabbit. And so, kissing happened on the show with less hassle.
Denzel Washington and Julia Roberts (The Pelican Brief)
It's on the record that Julia Roberts had no problem with kissing Mr. Washington (who would?), so it turns out that Denzel didn't want to kiss Roberts. In his words, he said that he did not want to be seen kissing a white woman on screen because he didn't want to perpetuate the stereotype that white women are the standard of beauty. In his words, "Black women are not often seen as objects of desire on film. And they have always been my core audience."
Ryan Gosling and Rachel McAdams (The Notebook)
With the amount of people that see The Notebook as the pinnacle of romance and the best romantic movie of all time, you might find it surprising that Ryan and Rachel actually had very little chemistry on set (at first). In fact, at some point things got so bad, that Ryan Gosling asked the director of the film to replace Rachel McAdams. Luckily, the director refused. The movie turned out great and Ryan and Rachel started dating.
Who could have thought?