If you've been asking yourself, Who are the most beautiful actresses in 2020: The Age of the Plague?, you've stumbled across the perfect article that satisfies all of your inquisitive inclinations! We searched far and wide in order to create a list of the movie industry's most beautiful babies. It's in no particular order, so there's no reason to get snappy with us. Who knows — some of the actresses on this list might surprise you!
1. Amber Heard
Heard got her start in the entertainment industry in 2004 when she played a minor character in the TV show Friday Night Lights. Subsequently, she acted in bigger roles in the action film Never Back Down and comedy flick Pineapple Express. Her personal life hasn't been without some drama. In 2009 she was charged with misdemeanor domestic assault after allegedly punching her then-partner in the arm. The charges were dropped. Heard was also briefly married to Johnny Deep, although they divorced after she claimed he abused her physically. For a year she even dated billionaire weirdo Elon Musk. How about that?
2. Gal Gadot
Everybody knows Gadot from her role as Gisele Yashar in the Fast & Furious franchise and, of course, as Wonder Woman in the DC Universe and standalone films, but she first gained attention at 18 years old when she won the Miss Israel Pageant. According to Forbes, Gadot is the world's third highest-paid actress, commanding $20 million for the Netflix movie Red Notice.
3. Priyanka Chopra
Crowned Miss World in 2000 (if memory serves me, she was a just and righteous ruler), the Indian-born Chopra is one of the wealthiest and most successful actresses in all of Bollywood. She's also starred in several Hollywood movies, including the box office bomb Baywatch, which just goes to show that even the most beautiful women in the world make bad choices from time to time.
4. Anne Hathaway
While very few people would argue against Hathaway being on this list, there is at least one person who would disagree: Hathaway herself. She has stated that she would rather embrace a "good girl" image and doesn't think of herself as sexy. But in any event, there's no doubt that she's legitimately a good actress, having snagged a Golden Globe, Academy Award, and Emmy. She's also a major box office draw, with The Dark Knight Rises, The Devil Wears Prada, The Princess Diaries, and Brokeback Mountain serving as examples of just a few of her most successful films.
5. Chloe Grace Moretz
Moretz has been acting since she was 8 years old, but now that she's 23 it's perfectly fine to declare her to be a certified chicky-poo. She made her debut in the horror/supernatural film The Amityville Horror and has made appearances in several TV shows. She's also a regular in fashion magazines, having been on the cover or featured in several magazines including Elle, Teen Vogue, Marie Claire, and much more.
6. Olga Kurylenko
Born to a Ukrainian father and Russian mother, Kurylenko was first discovered at the age of 13 and eventually signed a contract with the Paris-based Madison modeling agency. As an actress, she primarily accepts roles in action movies, starring alongside Tom Cruise, Russell Crowe and Elijah Wood because why not? She shot to prominence in 2008 when she beat out several other chickadees — including the aforementioned Gal Gadot — to be the Bond Girl in the 22nd James Bond movie. Fun fact: she's got a street named after her in her hometown of Berdyansk, Ukraine. Don't act like you aren't impressed!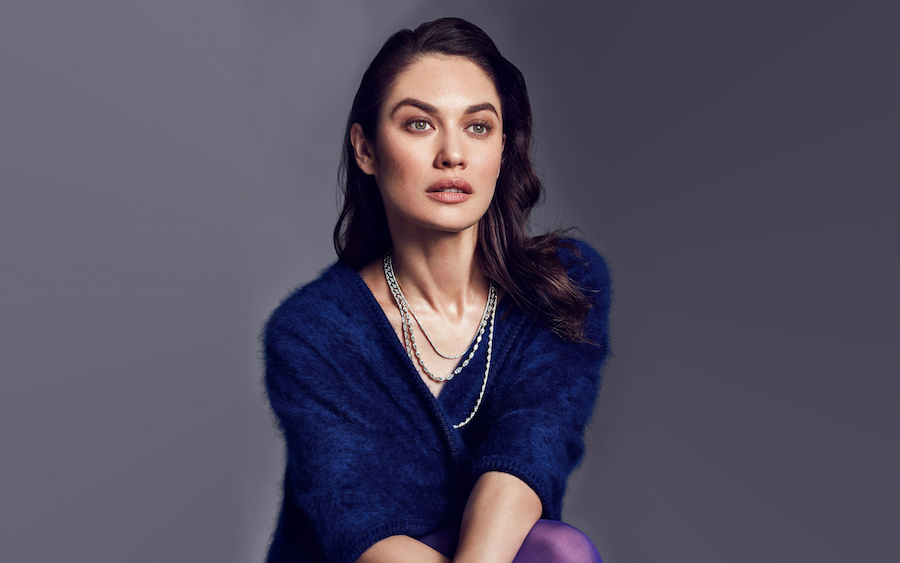 7. Zoe Saldaña
Instead of asking What ethnicity is Zoe Saldaña? a better question would be What ethnicity isn't Zoe Saldaña? Given that she could be the United Nations all by herself. Her dad was of Dominican and Haitian descent while her mother's side of the family is Puerto Rican and Lebanese. Fun fact: by virtue of having acted in the insanely successful Avatar and several Avenger movies, Saldaña is the second highest-grossing actress in history behind Scarlett Johannson, who really ought to be on this list of most beautiful women as well, but inexplicably is not.
8. Fahriye Evcen
There's a good chance you've never heard of her. Thankfully, we're here to educate you! Born in Germany to parents of Turkish and Circassian descent Evcen is an exotic beauty who spells her names in an equally exotic way. She has yet to make any movies outside of Turkey, and when you consider how gorgeous she is, we have no idea why.
9. Ariel Winter
Winter might not be conventionally hot, but you know what? This is not a conventional article. Born to a father of German descent and mother of Greece descent, she's been acting since she was 4 years old, getting her start in a Cool Whip commercial. But what she's probably best known for is her voice acting, having lent her voice in several Disney and Dreamworks animated films.
10. Jennifer Lawrence
One fateful day when a 14-year-old Lawrence and her family were on vacation in New York City, she was discovered by a talent agent. The rest is history, and now she's being featured in a Her Beauty article! Her mother actually encouraged her to take up modeling, but Lawrence was determined to make it big as an actress. Fun fact: she dropped out of high school and never bothered to get a GED either. When you spend nearly a decade starring in X-Men movies, who needs a piece of worthless paper?